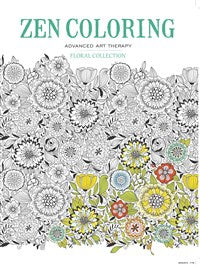 Zen Coloring Floral Collection
Taunton requires an order of 3 mix and match
In Zen Coloring - Advanced Art Therapy: Floral Collection, the intricate line drawings of flowers and leaves offer complexity to engage the adult brain, but also simplicity, in that there are no rules or even guidelines, you are completely free.
Coloring isn't just for children; it has been proved to be also beneficial for adults. Generating wellness and quietness, as well as stimulating the brain areas related to the senses and creativity, people across the globe are enjoying this simple form of art therapy. By concentrating on a straightforward task and allowing you complete creative freedom, you will soon find your body and mind relaxing.
Let yourself relax into the creative world of coloring. Containing a beautiful and diverse collection of illustrations, this fantastic book will allow the artist within you to shine! This edition contains a collection of floral artworks for you to complete using your own color scheme. Make your finished artworks as simple or as complex as you like - whichever you choose, you'll be delighted by the results.
Relaxing and therapeutic
Artworks range in complexity and style
Over 40 artworks to color in