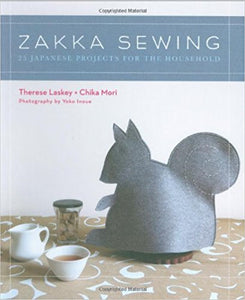 Zakka Sewing: 25 Japanese Projects for the Household
The phrase "Made in Japan" once conjured images of assembly-line production, but now it connotes well-made products that are unique and ingeniously designed―sometimes elegant, sometimes cute, always charming. And none are more charming than the graceful, functional, sewn objects called zakka.
 In Japanese, zakka means "household goods," referring specifically to hand-sewn items for domestic use―tableware, kitchenware, containers of various kinds, even simple clothing. Therese Laskey and Chika Mori were enchanted by the many clever pieces they saw online but disappointed that directions and patterns were solely in Japanese. They knew they had to put together an authentic zakka book for English-speaking crafters.
To do so, the authors enlisted the help of some of the best zakka makers in Japan to create 25 projects ranging from utterly simple (an appliquéd pot holder, flower-shaped coasters) to ambitious (a house-shaped camera cozy, an adorable pair of comfy padded slippers). Each project includes easy-to-follow instructions and how-to illustrations. The lovely photos of finished pieces were taken by New York–based Japanese photographer Yoko Inoue