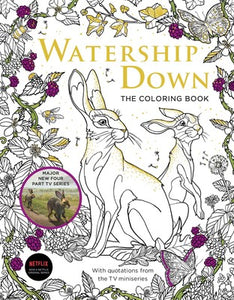 Watership Down The Coloring Book
Simon & Schuster requires an order over $125 your cost mixed and matched. All orders get Free Freight
To see all Simon & Schuster books go to https://wholesalecraftbookseasy.com/collections/simon-schuster-publisher
 Fans of Watership Down can now color in their own adventures in this beautiful coloring book based on the animated TV miniseries now streaming on Netflix and adapted from the Carnegie Medal–winning and timeless classic novel by Richard Adams.

Set in the picturesque English countryside, Watership Down is a stirring tale of adventure, courage, and survival. This beautifully illustrated coloring book is based on the exquisite animated miniseries which vividly retells the beloved story. Delicate, intricate drawings and decorative pastoral scenes with quotations from the series make this stunning coloring book perfect for fans of all ages.

Watership Down © 2018 Watership Down Television Limited A Netflix Original Series All rights reserved.