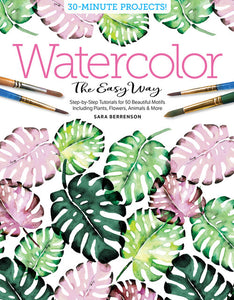 Watercolor the Easy Way
Schiffer requires an order of 15 books mixed and matched. Order $150 your cost for Free Freight
To see all Schiffer books go to this link https://wholesalecraftbookseasy.com/collections/schiffer-publishing-publisher
tep-by-Step Tutorials for 50 Beautiful Motifs Including Plants, Flowers, Animals, & More
Love the look of watercolors but think you lack the skill? Think again!
With Watercolor the Easy Way, you will learn all about color mixing, brush strokes, and more. Then, you will find a vast collection of 50 stunning pictures to paint.
Each of the 50 tutorials is broken down into key steps so you can clearly see how to begin your painting, layer color, and add detail. Also included are hand-drawn patterns that can be traced onto your watercolor pad, brush recommendations, helpful hints, and color palettes. Best of all, the projects can be completed in 30 minutes!
Experience the magic of watercolor, spark your creativity, and discover your inner artist with this book.
PRODUCT DETAILS
FORMAT: Soft Cover (with lay-flat binding)
SIZE: 8.5" x 11"
PAGE COUNT: 128
ISBN: 978-0-7643-5982-8