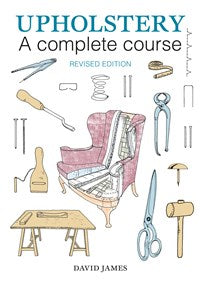 Upholstery a Complete Course (T)
Minimum order 3 Mix and match
In this second revised edition of Upholstery: A Complete Course, David James provides an encyclopedic guide to the techniques and materials involved in upholstery. The book covers everything from traditional handwork to the latest industrial techniques, giving a complete overview of the upholstery trade.
The 5 step-by-step projects included allow even unskilled first-timers to put the book's key techniques into practice, and professional advice on how to price materials will get any budding upholsterer off to a great start. Almost 500 detailed line drawings created by the author illustrate every aspect covered in the text. This new edition includes an updated bibliography and contacts section to ensure its relevance and upholstery terms have been added.
Here's what you'll get in this complete guide:
- A comprehensive guide to the craft, appealing to all levels of ability.
- A view of the history and development of upholstery, through the tools, materials, and techniques, both traditional and modern, and including frame-making.
- Five projects with step-by-step photographs.
- Beautiful line drawings throughout.
The wealth of material about historical styles and techniques is perfect for those seeking knowledge and a terrific resource for professional restorers. Whether you are new to the craft or serious about upholstery restoration, this book is the essential reference guide