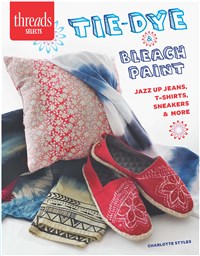 Tie Dye and Bleach Paint (T)
Minimum order 3 Mix and match
The retro tie-dye movement is back! This groovy, playful technique for adding vibrant color to t-shirts, tote bags, and more is hot once again. Tie-dye & Bleach Paint, brought straight to you from the expert staff at Threads magazine, is a handy 32-page craft project booklet that teaches you the A-to-Zs of tie-dying and bleaching. With 25 colorful photos accompanying step-by-step instructions for 15 awesome projects, you're sure to be inspired!
Take the worry out of dye projects. What's that you say – too messy? Too unpredictable? Never fret! You'll learn the essentials for getting great-looking tie-dye with these easy, detailed instructions that put you in control of the process. In no time, you'll create pretty, clever, one-of-a-kind painted projects that are sure to garner attention…and all at a nominal cost.
Master 15 tie-dye/bleach projects such as:
Tie-dye Shoes, T-shirts, and Napkins
Sprayed Bleach Tote Bag
Splatter Tank Top
Camouflage Leggings
Hombre Floral Pillow
Dip-Dye Scarves
Reverse Tie-dye Projects
And more!
Catch all the fun with Tie-dye & Bleach Paint! Tie-dye is back in a big way, and this project-based booklet shows you how to do it yourself—quickly and inexpensively. All it takes is a few simple items to transform your wardrobe, create lively gifts, and just have a blast. 
With multiple projects in every booklet, our 32-page Threads Selects booklets are a terrific value. Each booklet contains step-by-step instruction for pretty, clever projects that sewers and crafters of all levels can make in a weekend, a day, or even a few hours. Threads Selects booklets are available for sewing, knitting, crocheting, jewelry-making, cake decorating, and so much more – all from the experts at Threads and The Taunton Press. You'll want to try all kinds of new projects at this irresistible price!