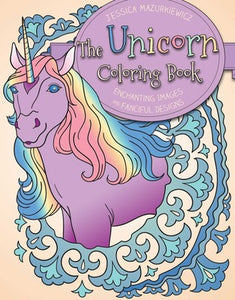 The Unicorn Coloring Book
Simon & Schuster requires an order over $125 your cost mixed and matched. All orders get Free Freight
To see all Simon & Schuster books go to https://wholesalecraftbookseasy.com/collections/simon-schuster-publisher
Here are dozens of these majestic animals for you to fill with your favorite colors. Within this book, you'll find awe-inspiring unicorns teeming from its pages, ready to be brought to life with the magic of your colored pencils, crayons, or markers.

Everybody loves unicorns. These magnificent mythical creatures have been prevalent in legends throughout the course of recorded history, dating as far back as the ancient greeks. Their symbolism of innocence, enchantment, and purity have captivated humans since their inception. They tend to invoke a sense of wonder with their beauty and grace that is unrivaled by any other mythical creature.

As an added bonus, each page is perforated so that you can easily remove and display your masterpieces. Get ready to be enchanted folklore's most beautiful creatures with The Unicorn Coloring Book.