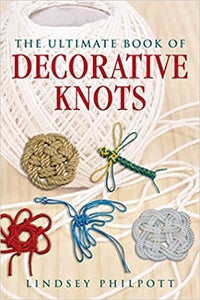 The Ultimate Book of Decorative Knots
Simon & Schuster requires an order over $125 your cost mixed and matched. All orders get Free Freight
To see all Simon & Schuster books go to https://wholesalecraftbookseasy.com/collections/simon-schuster-publisher
All knots are useful, but many can also be very beautiful. Here, Lindsey Philpott, expert knot tyer, sets out to provide the most comprehensive, useful, and attractive book of decorative knots from around the world. In this compact edition, readers will learn the materials, methods, measurements, and tools needed to tie dozens of beautiful knots. Flat knots, round knots, square knots, covering knots—you name it, and this book has it. From braids to plaits to sinnets, here are step-by-step instructions accompanied by full-color photographs for the knot tyer's reference. Chapters include:
 
Getting Started
Purely Decorative Knots
Netting and Woven Knots
Turk's Head Knots
Knob Knots
And much more!

Philpott provides a brief history of knotting, in addition to instructions and helpful images. Practical tips, like what materials not to use will advise beginners about the details of knot tying. Once you practice the knots illustrated in these pages, you can use the information to create your own individual style—and even some new knots! Handy reference book as well as a beautiful gift, this is an essential addition to every knot enthusiast's library. 544 pages