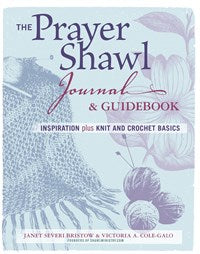 The Prayer Shawl Journal & Guidebook (T)
Minimum order 3 mix and match
Show someone special every stitch of your love with a handmade prayer shawl. There's something remarkable about a prayer shawl, especially one you've created with your own hands. They can be given for myriad life situations—"to provide comfort post-surgery or after the loss of a loved one, as well as during times of celebration, meditation, or rites of passage. Prayer shawls make wonderful gifts for graduation, weddings, and the birth of a baby, holidays, and any other marker of life's many stages. Now you can learn how to make these beautiful shawls that will be cherished for years after the first wrapping around one's shoulders with The Prayer Shawl Journal & Guidebook.
Part inspiring journal, part step-by-step guide. With techniques and tips for knitters and crocheters of all skill levels—"plus plenty of shawl patterns to create and share with the global community of prayer shawl makers—"The Prayer Shawl Journal & Guidebook is the perfect handbook for learning to knit or crochet prayer shawls of your own. It's the latest edition from the beloved authors of the tour de force prayer shawl series (The Prayer Shawl Companion, The Crocheted Prayer Shawl Companion and The New Prayer Shawl Companion—"all together with more than 96,000 copies sold).
Page after page, you'll find valuable information including:
Essential knitting and crochet instruction, plus tips, finishing techniques, and troubleshooting advice
10 easy prayer shawl patterns (including the traditional, basic pattern), 30 photographs, and 70 illustrations
A month-by-month Prayer Shawl Year section with journal pages and space for writing
Charts for recording knit and crochet projects, listing ideas, and keeping track of yarn stash and notions
Inspirational quotes throughout to prompt peaceful, meaningful reflection.
Chances are you already enjoy knitting and crocheting. Prayer shawl making, with its thoughtful blessings woven into each stitch, will elevate your experience to a higher ground.