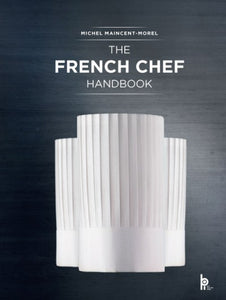 The French Chef Handbook
Abrams books if you order $75 your cost, you get free freight
to see all the Abrams books go to https://wholesalecraftbookseasy.com/collections/abrams
The book that revolutionized the learning of cooking by offering solid techniques to beginners—a bestseller in the French chef community, now in English!
The acclaimed La Cuisine de Référence is now available in its international English version: The French Chef Handbook. Own the keys of French culinary technique! This book is a study trip to France without the plane ticket. This bestseller, which has already supported over 800,000 professional chefs, can now be adopted by English speakers. Get ready to access the next cooking level with the complete content of 500 techniques, 1,000 recipes worksheets, more than 3,000 photos and a wide panel of 118 videos accessible by QR codes or URL to facilitate understanding. The French Chef Handbook / La Cuisine de Référence is a must have!

ABOUT THE AUTHOR
Michel Maincent-Morel is retired culinary instructor and honorary head chef at Jean Drouant Hospitality School of Paris. He has written several books (including the Best Practice Inside Editions), which have all been awarded with the French National Culinary Academy grand prix. The French Chef Handbook has also received a Gourmand Cookbook Award.
Imprint:

 

BPI
Publication Date:

 

December 8, 2020
Price:

 

$125.00
Trim Size:

 

8

 

2⁄5

 

x 11

 

3⁄5
ISBN:

 

978-2-85708-695-6
EAN:

 

9782857086956
Page Count:

 

1208
Illustrations:

 

3000 color photographs
Format:

 

Hardcover