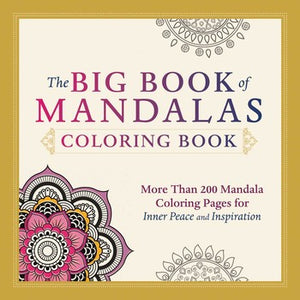 The Big Book of Mandalas Coloring Book
Simon & Schuster requires an order over $125 your cost mixed and matched. All orders get Free Freight
To see all Simon & Schuster books go to https://wholesalecraftbookseasy.com/collections/simon-schuster-publisher
Beautiful mandala designs for inner peace and inspiration!

Mandalas provide guidance to those seeking creativity and a more balanced life. The Big Book of Mandalas provides tranquility and a creative release with 200 customizable mandala illustrations. As you color in each mandala, your focus will shift, allowing you to fully relax your mind. The intricacy of the designs will also encourage you to express yourself as you use your own unique palette to fill in every pattern.

Whether you're new to the practice or have been using mandalas for years, The Big Book of Mandalas will bring you inner calm and maximized creativity--one coloring page at a time.