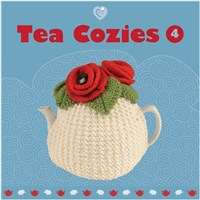 Tea Cozies 4 (T)
Minimum order 3 Mix and Match
Warm, wooly, cute, classic, traditional, funky—whatever your style, there's a tea cozy to fit your sensibility and teapot. Now you can make your very own cozies with the step-by-step instructions in
Tea Cozy 4. In this latest edition of the best-loved guide, knitters and crocheters alike will find 30 imaginative and beautiful patterns suited for a range of abilities.
Just getting familiar with your needles? Already proficient with your hook skills? Interested in learning some new tricks of the trade? Whatever stage you're at, and whichever dazzling designs and colors you gravitate towards, it's time to cozy up to Tea Cozies 4 and enjoy a steaming pot of success.