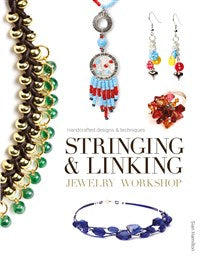 Stringing & Linking Jewelry Workshop (T)
Minimum order 3 Mix and match
Learn the art of stringing and linking handcrafted jewelry! Start thinking of a name for your jewelry-crafting workstation because people are going to be asking you, "where did you get that?" Stringing & Linking Jewelry Workshop, an easy-to-follow workshop-based book, covers everything you need to know to do exactly what the title suggests. There are 30 projects in all, accompanied by 450 gorgeous step-by-step photographs and clear-cut instructions, to take you by the hand and show you the ropes. Expert jewelry designer Sian Hamilton offers up advice on tools, tips, materials, and crafting methods to get you results as fast as clasping a necklace.
Design and make your own conversation pieces, classic pieces, even jewelry to give as gifts. Whether it's an exquisite necklace or dangling bracelet, interesting earrings or a striking pin, a gorgeous piece of jewelry can make the outfit and stir a discussion.
Create your own designs in no time! Stringing & Linking Jewelry Workshop includes 30 beautiful jewelry projects to make, from a range of jewelry designers, plus bonus mini-projects to complete a set or as a finishing touch to a main design. You'll enjoy seeing—and wearing—your results.