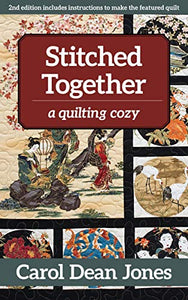 Stitched Together: A Quilting Cozy
NBN requires 12 books for Free Freight Mix and Match
To see all NBN Books go to https://wholesalecraftbookseasy.com/collections/nbn-publisher
In this mystery featuring a bonus quilting pattern, a retiree moves her romance to the next level—while at the same time trying to untangle a murder…
 
Years ago, a policeman named Charles came to Sarah Miller's door to break the sad news to her that her husband had died. Little did Sarah know that one day, she would move into the Cunningham Village retirement community—and run into Charles again.
 
Their friendship has grown into something more, and they're currently dealing with the joys—and challenges—of combining households. But amid this activity, they and their friends have to pull together to defend one of their own accused of murder…
 
Includes a bonus quilting pattern!