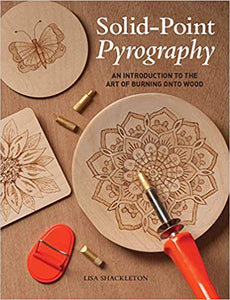 Solid Point Pyrography
Taunton requires an order of 3. can be mixed and matched.
to see all taunton books go to: https://wholesalecraftbookseasy.com/collections/taunton
Solid-Point Pyrography is a beginner's guide to solid-point pyrography, a particular method of decorative burning on wood and other materials. The solid-point woodburning tool is reasonably prices and easy to use, with a variety of tips for drawing, shading and mark making, providing a quick and cost-effective introduction to this wonderfully creative and enjoyable ancient craft.
included are 15 simple step-by-step solid-point projects suitable for the absolute beginner.
there is also useful information on equipment and techniques, to guide you though every step of the way.
whether you wish to decorate a wooden bangle or produce a pleasing work of art, you'll find all you need to know to help you achieve your goal.