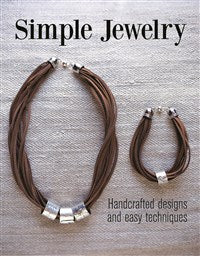 Simple Jewelry (T)
Minimum order 3 Mix and Match
Jewelry making is satisfying and fun, especially with an easy-to-follow book like Simple Jewelry. Whether you want to create a conversation piece for yourself, or as a gift for someone special, you will be able to craft this jewelry with ease. The basic techniques section covers skills from knotting to proper methods for working with wire, metal, beads, resin, and other tactile materials. Even the complete beginner will tackle these stylish projects with confidence.
Simple Jewelry includes:
20 projects to make
Designs suitable for beginners and more experienced makers
Includes step-by-step illustrations or photographs to guide the reader
Varied project styles that will appeal to a range of ages and tastes
Enter the wonderful world of jewelry making as you make stunning and unique pieces from the comfort of your own home.