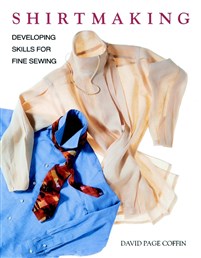 Shirtmaking (T)
Minimum order 3 Mix and Match
Here is the definitive resource on the fine art of making shirts. Author David Page Coffin shows how to create elegant, custom-fit garments for a woman or a man that have a great tailored look and fit perfectly. And, even more important, once you learn to make and fit a shirt -- whether you have sewn for weeks or years -- your sewing skills will be dramatically improved. 

David shares the construction secrets of garments from the world's finest shirtmakers. Discover how to duplicate and even improve on these garments, using simple tools and techniques any sewer can acquire. Includes 15 pages of full-sized patterns for collars, plackets, cuffs, and pockets.

In the companion video, Shirtmaking Techniques, Coffin demonstrates the techniques that are the hallmarks of fine shirtmaking and shows how to master rolled hems, flat-felled seams, collars, cuffs, and plackets.