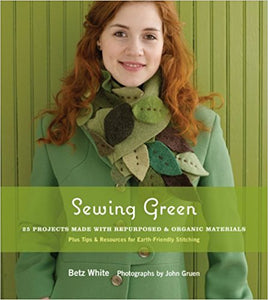 Sewing Green
By its nature, do-it-yourself sewing is environmentally friendly. In
Sewing Green,
Betz White takes stitching to an even higher level of sustainability, presenting 25 projects made from "repurposed" thrift-store and back-of-the-closet finds and organic fabrics.
White's whimsical yet practical designs include an apron constructed from men's dress shirts (and a wallet from the shirts' cuffs!), a soft blanket pieced from secondhand cashmere sweaters, and even a tote bag refashioned from used Tyvek envelopes. Along the way, White dispenses tips on everything from how to deconstruct old garments for reuse in new creations to how to wrap gifts with resusable fabric scraps instead of paper.
Inspiring profiles about well-known leaders in the eco-stitching movement are sprinkled throughout, and a complete resources section helps crafters make eco-smart choices. With
Sewing Green,
today's sewers will be fashioning handmade heirlooms and sustaining traditions for generations to come.