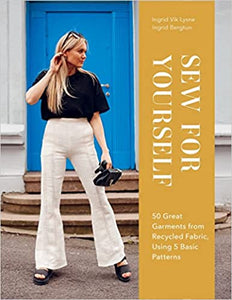 Sew for Yourself: 50 Great Garments from Recycled Fabric, Using 5 Basic Patterns
Schiffer requires an order of 15 books mixed and matched. Order $150 your cost for Free Freight
To see all Schiffer books go to this link https://wholesalecraftbookseasy.com/collections/schiffer-publishing-publisher
Create sustainable clothing that fits you perfectly and makes you feel wonderful when wearing it.

Even if you've never done it before, making your own clothing can be easy and fun—and sustainable, if you use recycled fabrics! You'll find clear how-tos on techniques and instructions for 50 garments to make. They use only five paper patterns, which are conveniently included in handy pockets. Full size and ready to use, they're customizable from XS to XXL.

There are plenty of projects perfect for beginners, with easy photo-rich instructions. And as you get more confident, you'll take on the higher-beginner-level creations. Here are patterns for shirts, pants, skirts, dresses, and jackets with variations for each. Or make an evening gown, overalls, jumpsuits . . . there's plenty of fashion fun you'll love.

Included is a section on how to give your old favorites a new life so you can wear them longer—mending is only the start of the options.

This guide emphasizes that you don't need a lot of fancy tools or training to begin to sew; with the how-to here and these ingenious projects, as long as you have a sewing machine, you're ready to go. Learn how to cut out a pattern, machine-stitch, and hand-stitch. For some of the patterns you'll cut out the pieces following a template, and for others, you'll draft the pieces yourself from your own measurements. 

Feel good about upcycling your wardrobe—and your extra blankets, sheets, or curtains. Most of all, keep your creativity flowing in everything you wear.