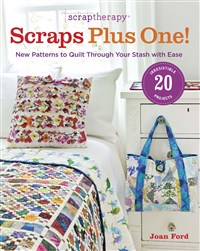 Scraps Plus One (T)
Minimum order 3 Mix and Match
In my mind, it makes more sense to start with the scraps, cutting them up following a simple plan. Then you are ready to select and sew the scrap pieces into controlled scrappy projects.'
- Joan Ford, Author
'Joan Ford once again sets out to help you tackle your never-ending stash of leftover fabric. Her approach in this book is to take your scraps and add one inspiration, whether that is one color, a focus fabric or a bright and bold stripe.'
- The International Association of Professional Quilters blog
Get a whole new perspective on your scrap stash! Organize your scraps, fire up your creativity, and make the beautiful quilts you've always dreamt you could make. The quilting patterns in ScrapTherapy Scraps Plus One!show how to use your scraps plus one new element—a focus print, a solid background, or a new technique—to inspire a fresh array of quilting ideas.
Get organized and get quilting. This latest title from Joan Ford, author of the best- selling ScrapTherapy Cut the Scraps, includes step-by-step instructions for turning odd-shaped scraps into piles of ready-to-use pieces, arranged by size. Taking control of scraps in this way reveals the amazing potential of a fabric stash and gets the creative juices flowing.
20 fabulous all-new patterns. Inspired by these creative ScrapTherapy ideas, you will be on your way to making 20 beautiful new projects, including scrappy quilts, totes, pillows, and more. What fun it is to see a pile of patches turning into a colorful work of art that's pretty and practical.
Foolproof instructions – and more – are included. Clear how-to instructions for piecing, stitching, binding, and finishing each quilt are included, along with clever solutions to common scrap-quilt challenges. Get your copy of ScrapTherapy Scraps Plus One! and get ready for serious quilting fun.