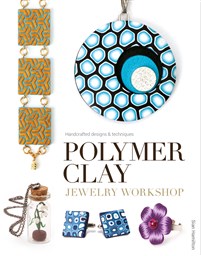 Polymer Clay Jewelry Workshop (T)
Minimum order 3 Mix and Match
Fill your jewelry box with one-of-a-kind pieces you create yourself. We're not talking about basic bead-strung necklaces…these are intricate, ornate, fabulous designs made out of polymer clay. Before you say, "that sounds hard!" let Polymer Clay Jewelry Workshop show you how simple and satisfying it can be.
Polymer clay is one of the most versatile jewelry-making materials. It has a chameleon-like quality that can mimic many other materials including metal or even glass. And because it's easily modeled and molded, polymer clay can take on whatever shape and design your imagination can conjure.
A simple-to-follow and beautiful to look at workshop-in-a-book that will have you crafting fine, custom jewelry in no time. Polymer Clay Jewelry Workshop offers page after page of inspiration and techniques along with a wealth of advice on tools, materials, and proper methods for making stunning polymer clay jewelry—from necklaces to rings, bracelets to earrings.
You get:
30 main jewelry projects from a range of jewelry designers, and each with bonus mini projects to complete a set or to complement the main design
490 full-color, step-by-step photographs, clear instructions, and professional tips to guide you through the projects, techniques, and materials
The perfect primer for beginner jewelry makers. The step-by-step instructional format, handy tools, plethora of vivid photos, and approachable style of Polymer Clay Jewelry Workshop make it easy to start and finish your own beautiful jewelry pieces.