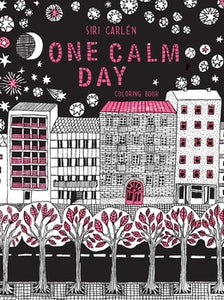 One Calm Day Coloring Book
Simon & Schuster requires an order over $125 your cost mixed and matched. All orders get Free Freight
To see all Simon & Schuster books go to https://wholesalecraftbookseasy.com/collections/simon-schuster-publisher
One Calm Day gives you the opportunity to spend an ordinary day doing something a little out of the ordinary. This adult coloring book is a collection of 48 beautiful designs.

Add your own color to your day! Using just your imagination and some colored pencils, these inspirational images will form an entire day, from when your alarm clock rings in the morning to sunset and your dreams.  Most importantly, One Calm Day allows you to relax as you see the world around you in an array of color and rediscover the joy coloring can bring.

One Day is the perfect book for coloring enthusiasts of all ages and skill levels.