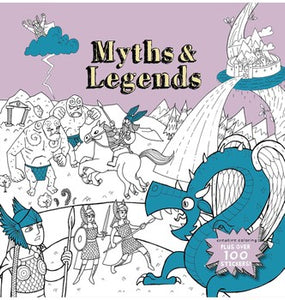 Myths and Legends
Simon & Schuster requires an order over $125 your cost mixed and matched. All orders get Free Freight
To see all Simon & Schuster books go to https://wholesalecraftbookseasy.com/collections/simon-schuster-publisher
Doodle and design in this book filled with ancient myths and legends and over 100 stickers!
This is a unique introduction to Norse, Celtic, and Greek myths and legends for aspiring artists and designers. Add color to ancient castles like Valhalla and Camelot, doodle mythical realms like Jotunheim and Otherworld, draw your own gods and beasts, and discover fascinating facts!
Coloring-in as you've never seen it before—especially for all design-conscious, creative kids. Beautiful black line images inspire children to think about and experiment with design, pattern and style as they learn from professional artists. Pages studded with fascinating facts add a learning element, helping young readers to use their imaginations to increase focus, hone artistic skills, and lose themselves in gadget-free creative time.