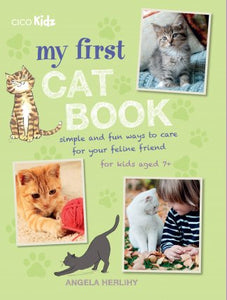 My First Cat Book Simple and fun ways to care for your feline friend for kids aged 7+
Everything children aged 7-plus need to know to care for, and build a special relationship with, their cat.
Even though cats are independent creatures, they still need a certain level of everyday care, attention, and understanding. This practical guide, complete with informative illustrations, helps children to care for and get to know their cat. In Chapter 1, Preparing For Your Cat, there is essential information on getting ready for a cat's arrival, such as what equipment to buy and how to make your home safe. Chapter 2, Getting to Know Your Cat,reveals what to expect in the first few days. Learn how to handle a cat, help her socialize, and, most importantly, understand her—cats are fascinating creatures and you can glean a great deal from their behavior and body language. Good everyday care is essential to a cat's health and well being, and so in Chapter 3, Everyday Care, there is useful advice on feeding your cat, teaching her to use a cat flap, and spotting the signs that she may be unwell. Chapter 4, Your Cat as Playmate is all about having fun with your feline friend. There are great ideas for games to play, such as Find the Food, and simple toys you can make yourself.