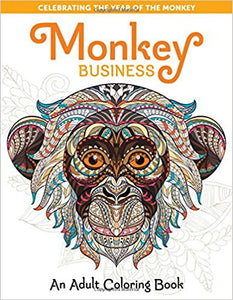 Monkey Business Coloring Book
Take a Break to Monkey Around... 
How fitting that it's the Year of the Monkey because in our hectic digital world, it's a jungle out there. How can you relax with so many things to do and so much clawing at your attention? How about taking a break to color? Coloring books make you stop and breath while putting your creative brain in gear. Choose to relax in this Year of the Monkey; grab your favorite colored pencils and markers, swing away from the chaos, and let your brain monkey around with some creative coloring. With these 47 intricate and delightful drawings of primates, you'll quickly find your body and mind unwinding as you let your colorist talents shine. All drawings are printed on one side and perforated for easy removal so once you've completed your creative break, you'll have a colorful primate ready for framing and display.