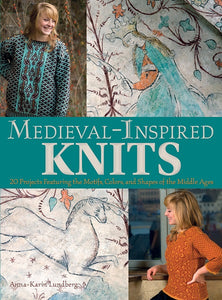 Medieval-Inspired Knits
Inspired by the richly decorated interiors of medieval churches in the province of Uppland, Sweden, this gorgeous book is a visual playground for the knitter.
Author, graphic artist, and hand-knit designer Anna-Karin Lundberg provides a stunning photographic glimpse into her country's creative and religious history while explaining her own fascination with the motifs, colors, and shapes of the Middle Ages. Lundberg then seamlessly translates the luxurious swirling vine patterns, graceful borders, and exciting color combinations from dozens of dramatic mural paintings and period textiles into sumptuous modern-day knits anyone can wear.
Knitters will find step-by-step instructions for 20 original projects, including sweaters, vests, jackets, scarves, and gloves. There are patterns for women, men, and children, and tips for sizing and finishing. Throughout, full-color photographs and diagrams provide ample points of reference to ensure unique and striking results.
Medieval-Inspired Knits shines a fresh and glorious light on the look of the Middle Ages, proving that what's old can indeed be made new again, with yarn and knitting needles as the means of reinvention.