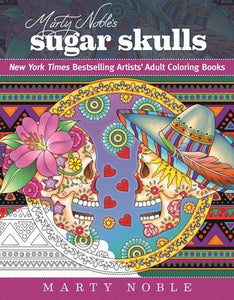 Marty Noble's Sugar Skulls Coloring Book
Simon & Schuster requires an order over $125 your cost mixed and matched. All orders get Free Freight
To see all Simon & Schuster books go to https://wholesalecraftbookseasy.com/collections/simon-schuster-publisher
Bestselling author Marty Noble allows you to express your creative streak and color Day of the Dead sugar skulls!

Sugar skulls, or calaveras, mark the arrival of the Día de los Muertos, or Day of the Dead, in November. To celebrate this traditional Mexican holiday when the living honor their departed loved ones, sugar is molded into skull shapes and decorated with colors, patterns, and designs that delight, charm, and fascinate.

Now, decorate your own sugar skulls within the pages of a coloring book. Designed by the bestselling coloring book artist Marty Noble, the book features forty-eight gorgeous and intricate line illustrations of both human and animal skulls. These specially crafted sugar skulls range across different aesthetic influences and complexity levels for both the amateur and advanced colorist. They are adorned with flowers, plants, patterns, wildlife, macabre imagery, and traditional Mexican art motifs that will engage your inner creativity and get your coloring juices flowing.

These pages are perforated and printed on one side, allowing colorists to remove and display their finished designs easily. Whether on November 1 and 2, or throughout the year, Marty Noble's Sugar Skulls offers an absorbing and fascinating coloring experience with page after page of unique sugar skull designs!