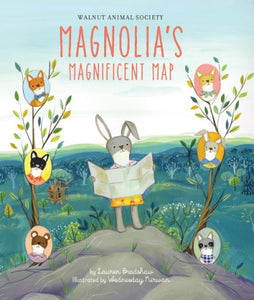 Magnolia's Magnificent Map
Abrams orders over $75 get Free Freight
To see all the Abrams books go to https://wholesalecraftbookseasy.com/collections/abrams
In this second book in the Walnut Animal Society series, following Henry's Bright Idea—Magnolia the Bunny explores the grove with her friends Margaux the Kitty and Chester the Raccoon, looking for that elusive, special place that will complete her map.
Deep in the shade of a walnut grove stands a tall tree house. A delightful group of friends gathers here. They call themselves the Walnut Animal Society. Their mission is to create and to always remain curious.
The Walnut Animal Society is busy preparing for a very special event. The Society Soirée comes just once a month, when the night is clear and the stars are bright. Tonight it is Magnolia the Bunny's turn to share. Everyone is excited. Everyone but Magnolia, that is. It has taken her months of exploring and sketching and picture-snapping to create her latest map—a map of the walnut grove. There's just one problem. Her map isn't finished. Magnolia's map is missing a spot. Will she finish it in time?
Imprint:

 

Cameron Kids
Publication Date:

 

May 1, 2018
Price:

 

$16.95
Trim Size:

 

8 x 10
ISBN:

 

978-1-944903-12-1
EAN:

 

9781944903121
Page Count:

 

32
Illustrations:

 

Four-color, hand-painted illustrations throughout with a special poster on inside jacket
Format:

 

Hardcover
Rights:

 

North America