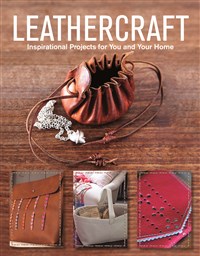 Leathercraft (T)
Minimum order 3 Mix and Match
Learn how to make lovely leather projects with a professional finish. Leathercraft features fabulous, handcrafted leather items for your wardrobe and your home. The clear step-by-step projects range from simple upcycling of existing pieces to making gorgeous hand-crafted items from scratch. Essential information on materials and key techniques is clearly explained in an in-depth section at the front of the book. Most of the projects are suitable for those new to leatherwork, and those who have some experience of the craft will be inspired by the exclusive designs. Templates provided where required, so you can recreate the designs.
Projects include:
- Log and kindling basket
- Storage baskets
- Key fobs
- Pencil case
- Writing set
- Booklets
- Necklace
- Decorative cuff
- Scarf belts
- Tote bag
- Purse and wallet
- and more
Bring a touch of luxury into your life for a fraction of the usual cost with these 25 hard-wearing, elegant projects that are suitable for a wide range of abilities. Whether you want to make something unique for yourself or a present for someone special, you'll find plenty of inspiration in this book.