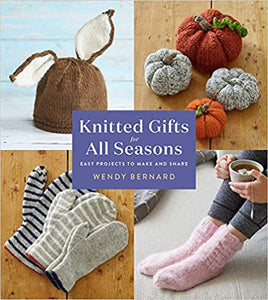 Knitted Gifts for All Seasons: Easy Projects to Make and Share
Abrams books if you order $75 your cost, you get free freight
to see all the Abrams books go to https://wholesalecraftbookseasy.com/collections/abrams
A guide to crafting knitted gifts, including scarves, sweaters, socks, and mittens, from master knitter and bestselling author Wendy Bernard

An exciting book from Wendy Bernard, Knitted Gifts for All Seasons is packed with 30 new garments and accessories. Projects are organized by season and range from cozy slippers, mittens, and a pom-pom wreath to Fair Isle yoke-neck sweaters for the whole family. Embracing the full calendar year and a wide spectrum of reasons to gift knits, each project captures the season's essence through color scheme and project type, resulting in a well-rounded and unique book.

Some patterns include simple non-knitting embellishments like embroidery, needle-felting, and crocheted edging options, offering additional appeal to makers. Bernard has a keen understanding of today's knitter and understands the desire to "make any project your own," and in turn, provides numerous ways to customize and personalize. Knitted Gifts for All Seasons is sure to be a book readers return to again and again for ideas, and to gift from continuously.