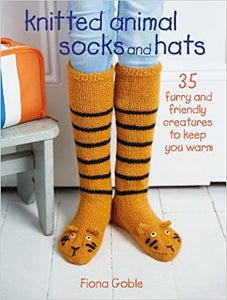 Knitted Animal Socks and Hats
Cover your head and feet in animal fun with these 35 knitting patterns, including hats for all ages, and simple stretchy socks for everyone from babies to adults.

Combine your love of knitting with your love of animals and make these stylish accessories featuring your favorite creatures. This new collection of knitting patterns for socks and hats covers you top to toe in amazing designs by Fiona Goble. There are patterns for babies, toddlers, and children, including teddy bear booties, unicorn socks, and even a pug dog hat, but there are also plenty of makes for teens and adults too, including reindeer socks, and a llama hat. The sock patterns are designed to be simple and straightforward, while the hats will fit many sizes.

Whether you prefer cuddly cats or colorful cockatiels, fluffy foxes or perky piglets, you will find something here to suit you.