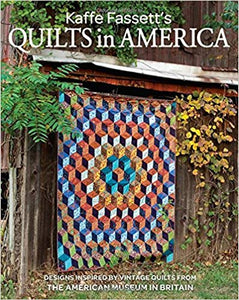 Kaffe Fassett's Quilts in America: Designs Inspired by Vintage Quilts from the American Museum in Britain
Minimum order 3 Mix and Match (T) 
To celebrate the 20th anniversary of his highly successful series of patchwork and quilting books, Kaffe Fassett has returned to his American roots. Using the collection of American vintage quilts in Britain's American Museum in Bath as his inspiration, Kaffe has chosen 18 different quilts as the basis for his 20 new designs in this book.
Designs feature both his latest fabrics and his much-loved classics, mostly from the Kaffe Fassett Collective but also his latest collection of Artisan fabrics.
An introductory section, this book features the original quilts that inspired Kaffe, and tells the reader something about their provenance.
The new designs demonstrate Kaffe's vivid and unique color combinations, giving new meaning to familiar block patterns such as Tumbling Blocks, Starbursts, and Log Cabins.
Photographed in bucolic Bucks County, Pennsylvania.
Each pattern contains full step-by-step piecing instructions and detailed diagrams.