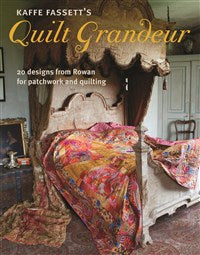 Kaffe Fassett's Quilt Grandeur (T)
Minimum order 3 Mix and Match
Kaffe Fassett's quilts never fail to dazzle and delight. Fifteenth in this series of bestsellers, Kaffe Fassett's Quilt Grandeur lives up to its name, inspiring readers with "grand new" takes on the age-old art of quilting. It brings you 20 all-new patterns that show off to advantage his signature line of Rowan fabrics, such as: Daisy Chain, Mad Plaid, Lotto, and Trellis and Nets.
Sophisticated. Surprising. Super-saturated colors! Always dramatic, Kaffe's designs feature rich colorways, best exemplified in his amazing Overlapping Squares quilt. Always inventive, Kaffe offers modern interpretations of traditional pinwheel, log cabin and rick rack designs. Always on-trend, Kaffe's favorite colors – bright pinks, clear turquoises, vivid lavenders, and high-impact reds – are featured throughout the book.
A showcase for contemporary quilters. This collection features work done in collaboration with superb quilters who are household names and projects include: Liza Prior Lucy's Cartwheel and Dreamy Hexagons; Pauline Smith's Blue Haze; Brandon Mably's child-size quilt, Paper Dolls, and Swirling Petals by Mary Mashuta.
Tips and techniques for doing museum-quality work. Like all his other bestsellers, Kaffe Fassett's Quilt Grandeuris a highly-charged visual experience, but it offers readers far more than eye candy. Kaffe generously shares what he's learned over 30 years as a designer and quilter extraordinaire and provides everything you need to duplicate these glorious designs. Or, taking a page from Kaffe's playbook, you can use these designs to inspire your own original interpretation!