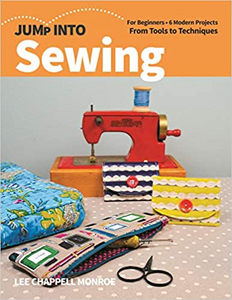 Jump Into Sewing
NBN requires 12 books for Free Freight Mix and Match
To see all NBN Books go to https://wholesalecraftbookseasy.com/collections/nbn-publisher
Learn the art of sewing
Beginners rejoice―getting started with sewing has never been easier! This project-based introductory guide will give you everything you need to know to explore and enjoy this fun art form. Dive in and sew six cute and useful projects like pillows, totes, pouches, and more. Plus, learn about the basics anatomy of a sewing machine, fabric, thread, and needle guide, and all the helpful tools and supplies you need. While this book is ideal for beginners, the adorable designs are still perfect and enjoyable for all sewing enthusiasts!
Sewing beginners delve into 6 versatile projects with step-by-step instructions

Includes comprehensive information on tools needed plus tips and tricks

Part of our "Jump into" series―you've bought your sewing machine, now make the most of it!