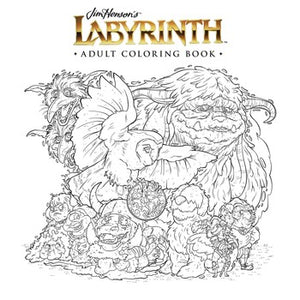 Jim Henson's Labyrinth Adult Coloring Book
Simon & Schuster requires an order over $125 your cost mixed and matched. All orders get Free Freight
To see all Simon & Schuster books go to https://wholesalecraftbookseasy.com/collections/simon-schuster-publisher
Adult coloring book of Jim Henson's fan-favorite film Labyrinth!

Experience Jim Henson's cult-classic film like never before in this interactive coloring book!

Featuring over forty black and white illustrations showcasing the vibrant and compelling world of the Labyrinth and featuring fan-favorite characters (and creatures!) Jareth the Goblin King, Sarah, Hoggle, Sir Didymus, Ludo, the goblins and much more!