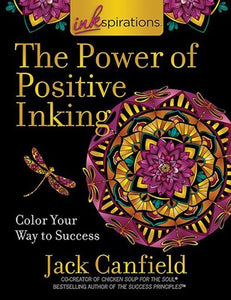 Inkspirations The Power of Positive Inking
Simon & Schuster requires an order over $125 your cost mixed and matched. All orders get Free Freight
To see all Simon & Schuster books go to https://wholesalecraftbookseasy.com/collections/simon-schuster-publisher
Bestselling author Jack Canfield shows anyone how to make their unique mark on the world (literally) with this transformative coloring book based on the blockbuster bestseller The Success Principles. Since its publication a decade ago, Canfield's guide has helped catapult hundreds of thousands of people to success. With adult coloring taking the world by storm, Canfield has expertly distilled 30 of his key tenets from his Success Principles book and combined them with inspiring coloring designs to engage the mind and unlock our unique blueprint for personal prosperity.

The Power of Positive Inking combines stunning original art from acclaimed illustrator Judy Clement Wall and pairs it with 30 of the most empowering principles. The result? An engaging way for visual, kinesthetic, and left-brain learners to envision their dreams, adopt new mind-sets and behaviors, and achieve their goals.

Escape from digital devices and tap into your own creative devices with the following:

Original artwork--everything from meditative mandalas and soothing symmetrical patterns, to florals and animals, plus word art pages that bring key concepts into focus
Inspiring quotes, affirmations, and engaging journaling prompts for deeper exploration
High-quality paper for all types of markers, plus perforated pages that enable you to display your finished pieces as visual reminders in your home or office.  

Whether you are looking to change careers, elevate your earning power, or find a new passion in your life, The Power of Positive Inking will not only keep you on track to achieve your goals but will help you draw your own unique pathways to success. Live boldly and bring your dreams to life in full color!