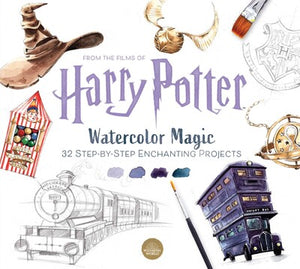 Harry Potter Watercolor
Simon & Schuster requires an order over $125 your cost mixed and matched. All orders get Free Freight
To see all Simon & Schuster books go to https://wholesalecraftbookseasy.com/collections/simon-schuster-publisher
Bring favorite scenes from the Harry Potter films to life with the first official Wizarding World watercolor book.

Harry Potter: Watercolor Magic includes over 50 easy-to-complete watercolor projects featuring fan-favorite characters, creatures, places, and icons from the films. From the classic Hogwarts crest to the Sorting Hat to Harry's stag Patronus, the pages burst with opportunities for fans to create gorgeous art from the Wizarding World. Each project features a light sketch of the image to get you started plus a list of supplies and colors, followed by clear, easy-to-follow instructions to help you recreate the image in minutes. The high-quality watercolor paper makes putting paint on paper a snap, and the perforated pages make finished products easily removed for framing or display.

Harry Potter: Watercolor Magic is perfect for at-home artists of every skill level looking for a fun, easy art project.

OVER 50 PROJECTS: Bring dozens of images to life, from classic scenes like the arrival at Hogwarts to portraits of favorite characters like Harry Potter, Hagrid, and Albus Dumbledore
FOR EVERY SKILL LEVEL: Complete instructions make it easy for artists from beginners to masters to create Wizarding World art that is true to the films
HIGH-QUALITY PAPER: Thick watercolor paper for a beautiful, lasting keepsake
PERFORATED PAGES: Pages release easily from the book for framing and display
OFFICIAL WIZARDING WORLD CRAFTING BOOK: Created in collaboration with Warner Bros. Entertainment Inc.