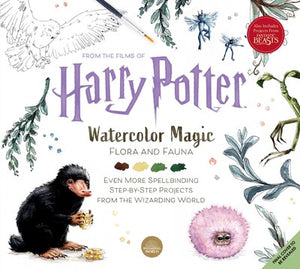 Harry Potter: Watercolor Magic: Flora and Fauna
Simon & Schuster requires an order over $125 your cost mixed and matched. All orders get Free Freight
To see all Simon & Schuster books go to https://wholesalecraftbookseasy.com/collections/simon-schuster-publisher
The exciting follow-up to Harry Potter: Watercolor Magic, the blank second book in the series continues the artistic fun with 32 all-new, ready-to-paint watercolor projects featuring your favorite magical creatures and plants. From a soaring Buckbeak to temperamental Mandrake, to a quiet Thestral forest scene, these pages burst with brand new opportunities for fans to create gorgeous art inspired by the Harry Potter and Fantastic Beasts films. Each project features a fully painted sample image to get you started plus a list of supplies and colors, followed by clear, easy-to-follow instructions to help you recreate the image in minutes. The book also includes 64 pages of perforated high-quality watercolor paper with light pencil sketches of each project, making it super easy to re-create the artwork right in the book and then remove the finished piece for easy framing and display.

Harry Potter: Watercolor Magic: Flora and Fauna is perfect for at-home artists of every skill level looking for a fun, easy art project to celebrate their love of the Wizarding World films.

OVER 50 PROJECTS: Bring dozens of images of magical creatures and plants to life, including Buckbeak, Mandrakes, Cornish pixies, Fawkes the phoenix, the Niffler, Aragog, Bowtruckle and much more.

FOR EVERY SKILL LEVEL: Complete instructions make it easy for artists from beginners to masters to create Wizarding World art that is true to the films.

HIGH-QUALITY PAPER: Thick watercolor paper for a beautiful, lasting keepsake.

PERFORATED PAGES: Pages release easily from the book for framing and display.