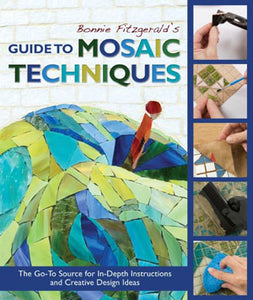 Guide to Mosaic Techniques
Bonnie Fitzgerald is an artist, teacher and author. Her passion is designing and creating one-of-a-kind artwork and guiding art enthusiasts, young and old alike, on the journey to discover and develop their own personal artistic voice through the art of mosaics.
This is a complete resource of mosaic techniques and design ideas for creating mosaics in the home. With clear step-by-step sequences, mosaic artist Bonnie Fitzgerald shows how to draw up an idea, cut and arrange tiles, and finish designs successfully. You'll also find expert tips from some of the world's leading mosaic artists dropped in throughout the book. Discover how to find inspiration, and to coordinate color and pattern in your designs, using a wide range of materials–from vitreous glass tiles to pebbles and shells, recycled pottery, ceramic tiles, decorative stones, millefiori and diamanté. All tools, materials, and equipment are clearly explained, and you'll find helpful hints on setting up a comfortable workspace, as well as essential information on mounting your finished mosaics.