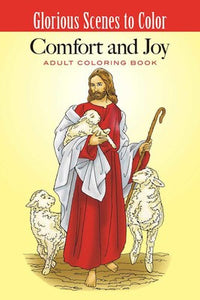 Glorious Scenes to Color: Comfort and Joy
Simon & Schuster requires an order over $125 your cost mixed and matched. All orders get Free Freight
To see all Simon & Schuster books go to https://wholesalecraftbookseasy.com/collections/simon-schuster-publisher
Bring these beautiful biblical scenes to life with your favorite colors. Each of these heavenly illustrations will transport you, helping you relax and transcend the stresses of daily life.

Glorious Scenes to Color: Comfort and Joy includes thirty-one divine black-and-white outlines for you to fill with color. This adult coloring book depicts sublime Christian classics such as 'The Good Shepherd" and The Nativity Scene," both of which have been adapted and reproduced countless times. Now, you can add your very own creative color choices and artistic touch to these marvelous illustrations. As an accompanying feature, each scene includes a corresponding quote from the Bible.

Perfectly sized for on-the-go coloring, express your inner creativity and inspiration anywhere. Additionally, this book includes perforated pages so that colorists can easily remove and display their finished works. So pick up your copy of Glorious Scenes to Color: Comfort and Joy, rejuvenate your soul, and de-stress with these inspirational illustrations.