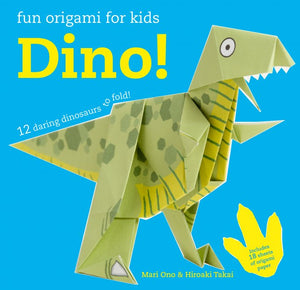 Fun Origami for Children: Dino!
12 step-by-step dinosaur origami projects for children, including paper to make them with.
Suitable for children from age 5 and upward, Mari Ono's dinosaur origami projects are the perfect introduction to paper-folding for kids. Including a Velociraptor, Triceratops and, of course, a ferocious T-Rex, all the projects are fun to make and play with, and there are amazing dinosaur facts throughout, so children can learn while they craft! There are simple step-by-step instructions and clear photographs, as well as helpful arrows showing where to fold. Each design has a skill rating, so children can start with an easy one and then move on to something a bit more challenging until they are easily impressing friends with their paper-folding skills! Specially designed pieces of origami paper are included with the book, so children can start crafting straight away.