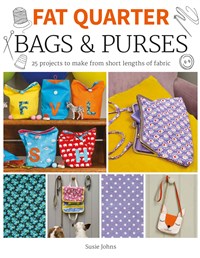 Fat Quarter Bags & Purses (T)
Minimum order 3 Mix and Match
If you're a sewer or a quilter, then the chances are good that you've got a collection of scrap fabric sitting in your home somewhere that you just can't bear to throw away. With Fat Quarter: Bags & Purses, you won't have to!
The 25 quick and easy projects range from:
tool bag
toy bag
craft caddy
lipstick pouch
overnight bag
And more, and are all designed to be sewn from fat quarters or less—meaning you can finally put those scraps to use! What could be better than that?