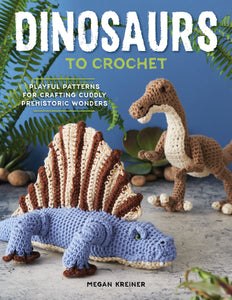 Dinosaurs to Crochet: Playful Patterns for Crafting Cuddly Prehistoric Wonders
Spinghouse Press
With 12

 

fun designs featuring

 

easy-to-follow instructions, anyone can crochet these playful prehistoric wonders for hours of roaming-the-earth fun!

 

Old-fashioned playtime will never go extinct with this collection of huggable dinosaurs and their friendly reptilian sidekicks.
From Triassic to Cretaceous periods,
Dinosaurs to Crochet
features a wide variety of the most popular prehistoric dinosaurs and reptiles- including the fearsome Tyrannosaurus, the spiky Ankylosaurus, and the three-horned Triceratops-all made from quick-to-hook chunky yarn. With just a few basic crochet stitches and the imaginative designs of Megan Kreiner, author of the best-selling
Christmas Ornaments to Crochet
, crafters can create an entire herd of cuddly Stegosauruses, a flock of flying Pteranodons, or a pod of swimming Plesiosaurs.
The extensive how-to section of
Dinosaurs to Crochet
provides a robust overview with beautifully illustrated step-by-step crochet stitches, helpful construction techniques, and finishing tips to ensure each and every project will please even the most discerning paleontologist-in-training.