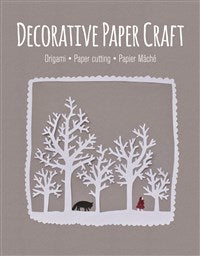 Decorative Paper Craft (T)
Minimum order 3 Mix and Match
Paper craft is a fun and accessible hobby for people of all ages to enjoy. Decorative Paper Craft is the perfect introduction to this absorbing pastime. Here you will find more than 20 beautifully photographed projects for the home, gifts for friends and family, and decorations for special occasions. Inspirational designs feature paper cuts, party items, handy storage, and fabulous items to decorate your home.

All the projects have clear set-by-step instructions to guide you, and there are plenty of tips to help you on your way. So grab some pretty paper and start cutting, sticking and folding!

Projects include:
   Money-box bear
   Pop-up bunny card
   Valentine's papercut
   Floral pom-poms
   Butterfly chandelier
   Christmas crackers
   Heartfelt roses
   Cutaway clock
   Book sculpture
   and so much more!

The projects come from a variety of makers featured in Making magazine. The step-by-step illustrations/photographs are simple to follow, and all templates required are provided so you can recreate the designs. If you are a paper fan and love all things crafty then this book is for you!