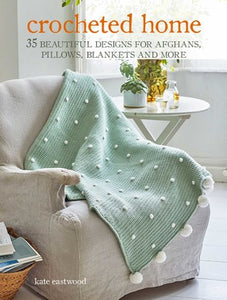 Crocheted Home
Create something beautiful for every room in the house with these 35 inspiring crochet patterns. With easy-to-follow patterns and unique designs from Kate Eastwood, you'll find something cozy, stylish or practical to have in your home all year round or to bring out at special occasions.
Kate Eastwood, author of 
Crocheted Wreaths and Garlands
, has created 35 beautiful and inspiring designs for the home, with something to suit every room in the house and every time of year. You could crochet a colorful bolster pillow or stylish pompom-edged throw for the living room, or a hot water bottle cover or blanket for the bedroom. Why not try making some seasonal tea cozies or smart table mats to impress your guests in the kitchen? Kate has designed some modern accessories for your bathroom, including a bathmat and cotton facecloths while the contemporary cloud blanket and colorful balloon pillow would look right at home in a child's bedroom or nursery. Kate has also included some great projects to use in the festive seasons, such as the Christmas Nordic wreath and the spring table runner, perfect for Easter. With clear patterns and illustrations of all the stitches, skills and techniques required, all you need is some yarn and a hook to start creating beautiful projects for your home.