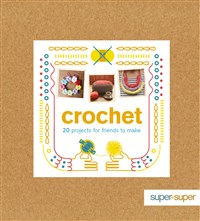 Crochet (T)
Minimum order 3 Mix and Match (T)
Gather your friends and make it a crocheters' night out! Think of it as a book club for people who love to crochet—where instead of talking about a great novel, you all roll up your sleeves to make one of the 20 projects inCrochet. (Throw in a few beverages and snacks and you've turned this gathering into a party!) This quirky workshop-in-a-book from Super+Super gurus Claire Culley and Amy Phipps makes it easier and more fun to start a new crocheting project because you're doing it with others. There's no end to what you can create when working simultaneously with friends!
Crochet is complete with:
20 fun-to-make and irresistible projects ranging from coasters and turbans to lampshades, bow ties, and even tablet cases
An essential techniques section that clearly explains the basic skills to get you and your friends started
Stylish, easy-to-follow, step-by-step photographs (250 in all!) to guide and inspire you
Suitable for all skill levels so anyone can join the fun. Starting a new craft project can seem overwhelming, but if you add a few friends then you've got a social gathering where everyone goes home with a completed project. Round up your crafty pals, grab some yarn, turn the pages, and get your crochet hooks clicking with Crochet.