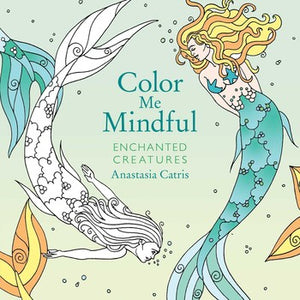 Color Me Mindful: Enchanted Creatures
Simon & Schuster requires an order over $125 your cost mixed and matched. All orders get Free Freight
To see all Simon & Schuster books go to https://wholesalecraftbookseasy.com/collections/simon-schuster-publisher
These intricate and beautifully detailed line drawings of enchanted creatures are ready for you to bring them to life. Relieve stress, practice your mindfulness, and discover your creative side as you unplug and slow down by filling these exquisite pages with color.

No matter our age, useful mindfulness techniques can help re-center us amidst a world of noisy stimuli constantly vying for our attention. Coloring can act like a tranquil meditation—relax and unwind with this calming coloring book for adults.

Make your mark—inside or outside the lines—with these fifty beautiful black and white illustrations of creatures mythical, magical, and wondrous just waiting for your gentle touch to bring them to life.