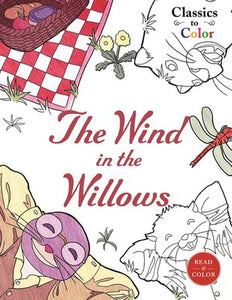 Classics to Color: The Wind in the Willows
Simon & Schuster requires an order over $125 your cost mixed and matched. All orders get Free Freight
To see all Simon & Schuster books go to https://wholesalecraftbookseasy.com/collections/simon-schuster-publisher
The Classics to Color series converts timeless tales into fun and relaxing coloring books. Experience the aesthetic aspect of these marvelous works like never before by adding your own artistic touch!

Now, you can color and illuminate individual scenes from Grahame's famous children's novel The Wind in the Willows. Decorative images with accompanying text highlight this whimsical narrative, illustrating some of the most captivating scenes from the book. The story takes place in the lush, verdant countryside of pastoral England, providing beautiful backdrops for the story's lovable animal characters. Bring the cast to life with your own creative color choices—featuring fun scenes of Mole, Ratty, Mr. Toad, Mr. Badger, Otter, the Weasels, and more.

This book contains thirty-eight engaging full-page black-and-white illustrations for you to imagine however you like and express your inner creativity. Pick up your copy of Classics to Color: The Wind in the Willows, and enter Grahame's world of delightful animal friends for you to fill with color!