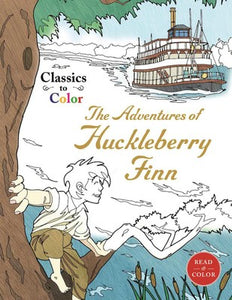 Classics to Color: The Adventures of Huckleberry Finn
Simon & Schuster requires an order over $125 your cost mixed and matched. All orders get Free Freight
To see all Simon & Schuster books go to https://wholesalecraftbookseasy.com/collections/simon-schuster-publisher
The Classics to Color series converts timeless tales into fun and relaxing coloring books. Experience the aesthetic aspect of these marvelous works like never before by adding your own artistic touch!

The Adventures of Huckleberry Finn is undeniably a classic piece of literature, often hailed as one of the most important novels of all time. Now, you can color individual scenes from Huck Finn's famous journey in this fun coloring book. Decorative images with accompanying text highlight the exciting narrative, illustrating some of the most noteworthy scenes from Twain's definitive work.

This book contains thirty-eight engaging full page illustrations culled from the finest moments from this rousing ride. Whether it's Huck and Jim travelling up the Mississippi on a raft or Huck loathing and opposing his etiquette lessons from Miss Watson, this book is filled with iconic scenes from the novel for you to envision however you like!

Familiarize yourself with Mark Twain's The Adventures of Huckleberry Finn and find your own great escape while coloring these fun illustrations.