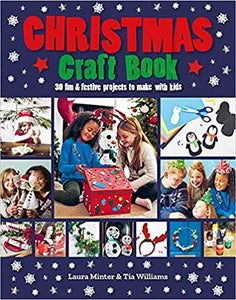 Christmas Craft Book: 30 Fun & Festive Projects to Make with Kids
Taunton requires an order of 3 mix and match
The Christmas Craft Book is a festive collection of 30 fun projects using everyday recycled materials and craft supplies.  
Keeping young children occupied and entertained can be tricky, even at the best of times. But when they are super excited about Christmas it can be even more of a challenge. This book channels all that Santa-fuelled energy into making fun festive projects for everyone to enjoy. While making decorations, toys and gifts children will learn crafting skills. The book features simple projects that are suitable for parents with little or no crafting experience. Most of the items can be made using items already in the house or things that would be thrown away.
The 30 boredom-busting projects include: pompom stocking, festive hand warmers, Santa skittles, Christmas wreath, tree topper, paper lanterns, candy cane biscuits and sock snowman.